OIPA India – Maharashtra, Amma Care Foundation (ACF) and Plant & Animals Welfare Society – Mumbai (PAWS-Mumbai) jointly lodged written complaint on 9th May 2022, , following to the telephonic and e-mail complaint received from a local animal lover and a social activist, who saw 3 people cruelly catching a stray cat from a building and then transferring the animal in an undisclosed location.
This animal cruelty case has been registered at Vikhroli Police Station in Mumbai and now police investigation is under process.
Our International Representative Ms. Nisha Kunju stated: "We have requested police to investigate the case, replace back the cat in same location and seize the vehicle use to transport the animal".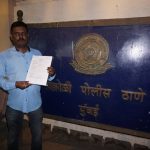 Mr. Sunish Subramanian of ACF & PAWS-Mumbai, who is also Honorary Animal Welfare Officer associated with Committee to Monitor Animal Welfare Laws in Maharashtra (Appointed by Bombay High Court & Govt. of Maharashtra), said in this regards: "The CCTV footage of the building clearly shows 3 citizens (already identified) catching the stray cat and putting the animal in plastic bag to dislocate".
Complaint has been registered by police Station in Vikhroli for violation of these 3 person of Section 429 & 34 of Indian Penal Code 1860 along with Section 11 of Prevention of Cruelty to Animals Act, 1960.
The join team of OIPA, ACF and PAWS-Mumbai will follow up on the issue.