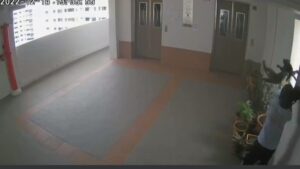 On 14 December 2022, a community cat was brutally thrown down from the 22nd floor of a building at Blk 186 Boon Lay Avenue, Singapore, by a young boy (10-15 years old – the age is not clear). The footage released to the public has clearly evidenced an act of extreme cruelty. The boy lured the community cat from the 1st floor and took the animal into the lift up to the 22nd floor. Thereafter, the perpetrator carried the cat and tossed it off the corridor ledge next to the lift.
The cat didn't survive. A terrible death reserved to an innocent sentient.
There is no excuse for animal cruelty, no matter the age of the perpetrator. Animals deserve to be treated with respect and kindness, and those who abuse or cause them suffering and death must be held accountable for their actions.
OIPA demands justice for Panther and supports animal lovers in Singapore urging the Authorities involved, Animal & Veterinary Service (AVS) and Singapore Police Force (SPF), to fully investigate.
Under the Animal and Birds Act 1965 Section 42;
A person commits animal cruelty if:
causes or allows any unnecessary physical or psychological pain or suffering to any animal by beating, kicking, torturing, ill-treating or terrifying the animal;
makes a sick or unfit animal work; or
is involved in any business or incident related to animal fighting (e.g. dogfighting or cockfighting).
Any person found guilty of animal cruelty faces a fine of up to $15,000, and/or imprisonment for up to 18 months. In the case of subsequent offences, the offender faces a fine of up to $30,000 and/or imprisonment of up to 3 years.
We call on the relevant Authorities (read here Open letter_Episode of Animal Cruelty_Singapore_29122022) to enforce the Animal and Birds Act 1965 tightening laws on animal cruelty, and we hope that this act will be punished. Parents should teach their children respect and compassion towards all other living beings and not justify cruelty towards what they consider "just an animal". Many research findings have actually demonstrated the direct link existing between acts of Cruelty to Animals and violence toward humans. If a minor is already capable of such an act, he will be likely to cause pain and suffering to his human fellows in the future.
Join us and demand justice for Panther, innocent victim of human cruelty!
✍️ Sign the petition of animal lovers in Singapore and help them send a message that animal abuse will not be tolerated in the country.
📲 Share a photo on your Instagram page with hashtag #justiceforpanther and tagging @kshanmugam @desmond.lee to spread the voice and raise awareness, so that Panther's death will not be vain.