We want to support Blood Lions that together with FOUR PAWS, World Animal Protection, Born Free Foundation and Humane Society International – Africa have jointly created a petition asking the public to urge the South African Government to finalise the new conservation policy to re-wild and keep South Africa's iconic wildlife free from suffering through domestication, intensive management and exploitation.
Following the High-Level Panel recommendations and Minister Creecy's announcement that South Africa would no longer breed captive lions, keep lions in captivity, use captive lions or their derivatives for commercial purposes, the Department of Forestry, Fisheries and the Environment (DFFE) gazetted a draft Policy Position on the conservation and ecologically sustainable use of elephant, lion, leopard and rhinoceros.
The draft Policy Position  outlines among others the following policy objectives:
To immediately halt the domestication and exploitation of lion, and the closure of captive lion facilities
To reverse the domestication and intensification of the management of rhino
To prohibit ivory and rhino horn trade under current conditions
To restrict ex situ (i.e., outside of their natural habitat) live export of the iconic species
To promote an increased wildness, naturalness and wellbeing of fauna
To adopt the One Welfare approach
To embrace a transformative African approach to conservation and ecologically sustainable use, consistent with Ubuntu
OIPA was amongst the NGOs that in December 2020 signed the letter addressed to Minister Creecy asking for the closure of captive lion breeding industry and associated activities. Read here 👉 NGO-Captive-Breeding-Letter-Final_3-Dec-20
The Minister is unfortunately receiving significant opposition from a minority group of industry players currently benefiting from exploitative and unethical industries, which she is seeking to phase out and ultimately end. It is therefore imperative that we support the Minister and DFFE in this transformational shift and encourage the urgent completion of the consultation process and finalisation of the draft Policy Position above explained.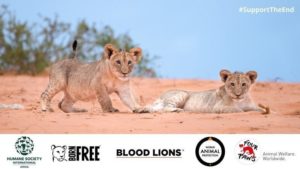 The completion of the Policy Position document should be rapidly followed by the necessary process to formulate a draft White Paper on Biodiversity Conservation and Ecologically Sustainable Use in order to achieve this new vision and in the interest of South Africa, all of its people and its wildlife.
Please sign the Petition in support of the joint letter adressed to the South African Minister and her Department.
Petition: https://chng.it/vGrjHtZV
(deadline for signing 13 October 2021)