LEAVE FUR BEHIND – YOU CAN NOW ASK FOR A FUR FREE EUROPE
The International Organization for Animal Protection (OIPA) is honoured to be part of the campaign group, together with other 80 NGOs, that actively supports the European Citizens' Initiative (ECI) "Fur Free Europe" launched by the Eurogroup for Animals in May 2022.
The ECI calls on the EU to definitively:
🚫🦊 Ban fur farms
🚫🧥 Ban farmed fur products from the European market
WE DID IT! 🎉
#FurFreeEurope closed on 1 March with an incredible 1,701,892 signatures. European citizens want an end to fur farming and the sale of farmed fur products!
VALIDATION PROCESS COMPLETED
1,502,319 signatures were officially submitted to the European Commission (EC), calling on the EU to ban fur farming and farmed fur products on the European market. Fur Free Europe represents the most successful ECI for animal welfare, and the third most successful overall.
Fur Free Europe was launched in May 2022 and received the support of more than eighty organisations from all around Europe. It closed on March 1st, earlier than its official deadline, thanks to a record number of signatures collected.
The ECI organisers will now meet with the European Commission and then attend a public hearing at the European Parliament, after which the European Commission has to publicly respond to the initiative, before the end of the year.
At European level, a marked divergence between national legislation with respect to the fur production sector has led to a distortion in the Union's internal market, considering the existence of production bans only in some Member States. The only solution is now to impose an outright ban!
EU citizens can now sign the European Citizens' Initiative* (Fur Free Europe- additional info), inviting the Commission to prohibit by law at European level the keeping and killing of animals for the sole or main purpose of fur production and the sales of farmed animal fur and related products on the EU market.
SIGN NOW FOR A FUR FREE EUROPE
WHY BAN FUR FARMING AND FARMED FUR PRODUCTS?
UNETHICAL
The keeping and killing of wild animals for the purpose of fur production is ethically unacceptable in a civil society. It is an outdated abject cruelty nowadays widely rejected by EU citizens. Fur farming contravenes even the most basic concept of animal welfare. Complex behavioural needs of animals farmed for fur cannot be met in these farms. Here animals live confined in tiny barren cages in very poor sanitary conditions for all their life. Animals cannot express their species-specific behaviours and behavioural restrictions inflicted on them only cause severe physical and psychological suffering and negative experiences such as pain, fear and frustration. Animals suffer from stereotypical behaviours that result in repetitive movements such as circling or pacing in the cage to self-mutilation and cannibalism.
UNSAFE
Fur farms pose a risk to animal and human health. During the COVID-19 pandemic, numerous outbreaks of SARS-CoV-2 on mink farms have evidenced the veterinary-public health risks associated with the production of fur. Breeding animals in intensive farming increases the risk of spreading zoonosis, specially when it comes to wild animals such as foxes and minks.
UNSUSTAINABLE
Fur farming has a significant environmental impact and it poses a serious threat to native biodiversity. Fur production has been and continues to be responsible for biodiversity loss on a massive scale considering past introductions and ongoing escapes of invasive alien species from fur farms. Having escaped from fur farms, the American mink is now widespread throughout the EU causing significant adverse impacts on European native wildlife. The environmental impact of fur is many times higher than that of other common textiles, including faux fur. The dressing and dyeing of fur involves the use of toxic chemicals. In terms of land pollution by toxic metals, fur dressing and dyeing is ranked in the top five highest pollution-intensity industries. Pollution from fur factory farms often has a devastating effect on local water bodies, soil, and air quality.
On Thursday 6 October 2022, the Intergroup on the Welfare and Conservation of Animals held a dedicated session at the European Parliament in Strasbourg to discuss on "The case for a Fur Free Europe".
After the introduction of Tilly Metz MEP (President of the Intergroup), Reineke Hameleers (CEO, Eurogroup for Animals) presented the campaign on behalf of the Fur Free Europe coalition, and introduced a new and detailed Fur Free Europe Report on the reasons why Europe needs to ban fur farming and farmed fur products on the market from a public health, legal, environmental and ethical perspective.
The presentation was followed by a partial screening of the documentary SLAY from the filmaker Rebecca Cappelli that provides an in-depth and eye-opening look into the dark side reality of the fashion industry, uncovering greenwashing, mislabeling, and animal cruelty. "The suffering of animals in the fashion industry is greenwashed into oblivion while those skin industries are destroying the planet and harming people. SLAY aims to challenge the notion that animal skins are a fabric, and open people's eyes to the dark realities behind some of the most sought after skins in fashion", said Rebecca Cappelli, Director and Producer of the film.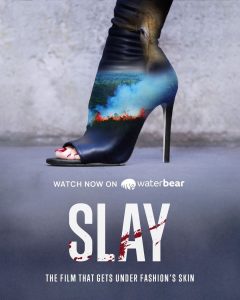 SLAY digital booklet 
Watch the SLAY documentary
Bo Algers, Professor emeritus at the Swedish University of Agricultural Sciences, gave a presentation on the "Behavioural needs of Mink and Foxes in the fur industry".
Johannes Rauch, Austrian Federal Minister of Social Affairs, Health, Care and Consumer Protection intervened with a video message saying: "In my role as Minister of Health, I strongly push towards the realisation of the "One Health" approach. That means we have to look at human health, animal health and environmental health as interlinked issues that strongly impact one another. I am convinced that we will have to fundamentally change this system of animal exploitation to avoid future pandemics. This is why I wholeheartedly support the European Citizens' Initiative for a Fur Free Europe and I want to ask you to support it as well. The EU must use its power and also close the EU market to farmed fur products from outside the EU. Just like we have done with products from certain trapping methods, seal products or cat and dog fur. In order to make progress and live up to our moral standards and the responsible treatment of animals as sentient beings, I strongly urge all of you to support this common cause, support the Citizens' initiative and make this step possible towards the goal of a fur free Europe".
The message echoed the information note tabled by Austria and the Netherlands during a meeting of the Council of the European Union (Agriculture and Fisheries), supported by Belgium, Germany Luxembourg and Slovakia, calling on the European Commission to investigate the possibility for a ban on fur farming.
The call to end fur farming in the EU on the grounds of animal welfare, public health and ethical considerations, was backed by a total of twelve Member States during the deliberations on this paper.
(press release Eurogroup for Animals)
*WHAT IS A EUROPEAN CITIZENS' INITIATIVE?
The European Citizens' Initiative is a unique and effective way for EU citizens to help shape our future by calling on the European Commission to propose new laws.
This is not just a petition. Once an initiative has reached 1 million validated signatures, the European Commission is obliged to respond and take action.
In order to achieve this, the Initiative requires citizens to provide personal data to validate their support. Be assured that your information can only be used for the support of this Initiative, and not for other purposes. Fur Free Europe is following all legal requirements, GDPR and data protection rules.