The outbreak of a war is not merely a gruesome act to condemn, but its effects on humans in the short and long term are devastating. However, also animals are affected, but this aspect is often hardly mentioned.
This time was slightly different. From the very first day of the conflict, we all have seen heartbreaking images and videos of people and families who, fleeing away in despair, did not hesitate a single second to take their pets away with them.
OIPA International has immediately decided not to stand by the sidelines in this emergency. We have promtly contacted some of our member league associations based in Kyiv – Ukraine, Happy Paw, KSPA Lucky Strand, and Generation 4 in order to be costantly updated on the situation and understand in details what kind of help Ukrainian animals needed the most. Many volunteers refused indeed to abandon the animals they used to take care of despite risking their own lives and albeit with reduced food resources and limited essential goods.
Furthermore, OIPA keeps being constantly in touch with its member league associations and partners in neighbouring countries that are offering support to refugees and families who are crossing the border with their pets.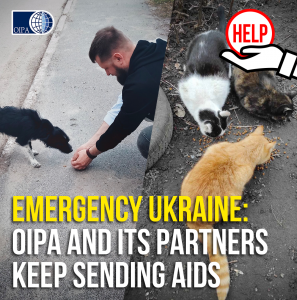 Through the fundraising campaign "EMERGENCY UKRAINE", OIPA is concretely supporting animals (inside and outside Ukraine) as well as local and neighbouring associations that, in the midst of war and in a steadily more difficult context, are working round the clock to save and assist animals.
Thanks to your great support, OIPA is regularly organizing in cooperation with its Polish member league Fundacja Odin shipments of humanitarian aid for animals such as food, pet accessories, and medicines to be delivered inside Ukraine and distributed amongst associations, shelters, volunteers and civilians in need.
Moreover, OIPA has also managed to send monetary donations, as well as food, transport cages, vet supplies and other useful material (coats, leashes, harnesses, etc.) to some of its member leagues in Poland and Romania (Sava's Safe Haven and Casa Lui Patrocle in Romania and VIVA!Poland in Poland).
🇺🇦 All together, we can give hope to Ukrainian animals affected by the war 🇺🇦
Bank Transfer
Write as note"Emergency Ukraine" and add the exact amount
Account Holder:
OIPA – Organizzazione Internazionale Protezione Animali
Bank details:
IBAN: IT93I0306909620100000002326
SWIFT/BIT Code: BCITITMM
Bank's Name and Address:
Banca Popolare Commercio e Industria
Agency MILAN-BOCCHETTO
VIA BOCCHETTO, 13 – 20123 Milan – Italy
Thanks to our fund "Emergency Ukraine" and the collaboration with our member association Happy Paw, OIPA has recently supported a vaccination project for...
join our fundrainsing campaign